PREVIOUS




EXHIBITIONS - 2023
SLOW
Kate V M Sylvester
14 - 25 JUNE 2023 10 - 4PM, WED - SUN E
ACH DAY
OPENING NIGHT: 16
JUNE 2023 6 - 9PM
​
The process of deconstruction allows a forensic autopsy of fast fashion. Each garment is meticulously de-threaded by hand, revealing the complex weave of warp and wheft within the jersey material. Working with this new weave, I have examined the structure, patterns, strength, and the capacity. Every single thread is considered and honoured. Taking fast fashion items that have been made in mass quantities, slowly deconstructing, and re-creating all by hand. To slow down, taking the time to meditate with the process and form a relationship with the making process. I am forever moved by the beauty and potential of the weave I work with. By spending so many countless hours working with my hands, I form a bond and an intimate understanding of the material. To honour this relationship, I have created an interactive space where every sense is satisfied. Beyond a utilitarian undergarment, the t-shirt is one of the most iconic design essentials. The complex implications of this undergarment are phenomenal, from social, cultural, psychological, environmental and economic perspectives. I am completely obsessed with every element and continue to find new ways of extending the thread.
​
Kate V M Sylvester
Working primarily with recycled t-shirts, my process of de-threading recycled garments by hand reveals the masses of material used in a single garment. Seemingly ethereal, the weave is actually very strong and able to be manipulated and revered as conceptual contemporary art. I have taken the t-shirt a ready-made art object capable of adaptions within sculpture, installation, couching, painting and video performance art. This revelation allows us to reconsider the materials used in our every-day lives and their potential. My hope is to reveal the complex beauty in the things we take for granted.
I don't even know where I am anymor
e
POP UP EXH
IBIT
ION James Wilson
​
2 JUNE 2023
6 - 9PM
In Wilson's new collection he explores the feeling of transience between locations, relations, emotions and identity.
Life is constantly changing and it's easy to get lost in the rush of it all but this body of work embraces this. Using different subjects taken from his time in both Australia and North America, he bounces from surface to surface along his journey to god knows where.
The destination isn't what's important.
POP 'ROUND
One person's junk is another person's chair.
20 - 25 MAY 2023 10 - 4PM EACH DAY
OPENING NIGHT: 19 MAY 2023 5 - 9PM
COMPLIMENTARY COFFEE DAY: 20 MAY 2023 10 - 4PM
​
Hey, how've you been? Long time no see.
I've been good. At a new place with a bunch of creative minds who've got wild ideas and ridiculous handy skills. We've made all the furniture around the house ourselves from materials we've rescued. You wouldn't believe some of the possibilities reclaimed materials lend themselves to. We're talking luxe, premium sh*t you find in high-end furniture stores…made from people's junk. And it's all functional!
What, you don't believe me? You should pop 'round and test them all out yourself over drinks and nibbles. Don't worry, you won't hurt yourself - we know what we're doing. Let us transform your opinion about waste.
Hope you can make it!
This event is part of Melbourne Design Week 2023, an initiative of the Victorian Government in collaboration with the NGV.
Proudly sponsored by Tait, Adam Goodrum Studio, Sobah, Monday Distillery, Wallaby Water, First St Pantry, Marisa's Kitchen, Grampians Olive Co. and Dibble.
CRANIUM



One Day Only: 13 MAY 2023 2-8PM
Featuring artists Heloise Ting, Charlie McGowan, Alexandra Pellegrino, Angus McGregor, Indira Thacore and Riley Holmes
​
Every artist has their own creative purpose. CRANIUM is an art exhibition for people to come together, connect and converse with one another about art's ability to communicate, share experiences and instill change. A myriad of young multidisciplinary artists will be exhibiting their works, ranging from oil paint, acrylic, fine line drawing, ceramics and film making.
​
Join us at Blender Studios on the 13th of May 2023 from 2pm to 8pm for a day of art, live music from 5pm and complimentary beverages and snacks.
​
Kindly sponsored by Bodriggy Brewing Company and Majans
PREVIOUS
EXHIBITIONS - 2019
Blender Studios PRESENTS:

THE BLENDER CHRISTMAS EXHIBITION


BLENDER STUDIOS
END OF YEAR SHOWCASE
IT'S BEEN A HUGE YEAR IN OUR NEW STUDIO!

Join us to celebrate the achievements of our artists over 2019
at our annual end of year party.

It goes without saying that moving studios is a big job, but we have now settled into our new digs in West Melbourne. We have ironed out the kinks, fixed the drips, and also - made a lot of art. To celebrate, we plan to round off the year with a good time and invite you to join us for our annual Blender Xmas Showcase.

This exhibition and event has become a marked tradition over the years and we are excited to invite you to the 2019 instalment of this event. Every year we open our studio doors and welcome the public to roam through the labyrinth of over 24+ studio spaces that is The Blender Studios. A curated group show will fill our gallery and communal spaces, plus there will be live music, performance art and cold beers courtesy of Carlton United Breweries!
Opening Night | Friday 29th November 6pm-Late
Exhibition Dates | Nov 29th - Dec 14th Dec 2019
Gallery Hours | Weds-Sat 12pm-5pm
​
ARTISTS:
Adrian Doyle
Ben Barek
Gigi Gordes
Tinky
ManofDarkness
N20
Manda Lane
Tim Coleman
Craig Cole
Marcus Encel
Jo Harrison

All welcome to our final end of year celebration, see you there!

​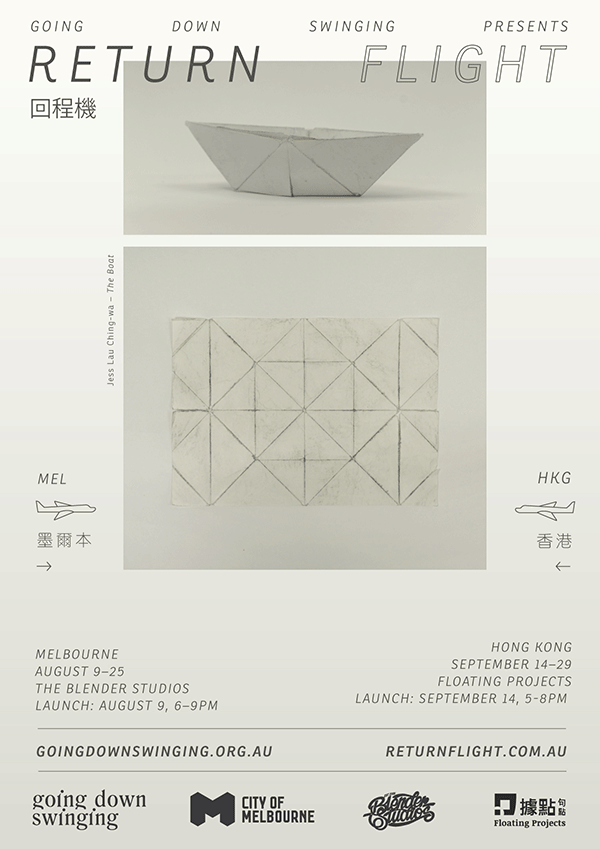 GOING DOWN SWINGING PRESENTS:
RETURN FLIGHT MEL>HKG


CURATED BY ELIZAVETA MALTSEVA, EDITED BY MAGENTA SHERIDAN & RENATA CARLI, AND DESIGNED BY JACQUI HAGEN
OPENING & PUBLICATION LAUNCH | 9TH AUGUST 6PM - 9PM

EXHIBITION RUNS | 9TH AUGUST - 25TH AUGUST


FASTEN YOUR SEAT BELTS! RETURN FLIGHT IS PREPARING TO LAND.

FOR OUR THIRD AND FINAL EDITION, RETURN FLIGHT GATHERED TEN ARTISTS AND TEN WRITERS FROM MELBOURNE AND HONG KONG AND PAIRED THEM UP IN A BLIND COLLABORATION, RESPONDING TO THE THEME 'AWAY'. THE RESULT IS A PUBLICATION, AN INTERNATIONAL EXHIBITION AND A CROSS-CULTURAL EXCHANGE OF WILD NEW WORKS.

JOIN US FOR A NIGHT OF VISUAL ART, WRITING, DISCUSSION AND IN-FLIGHT REFRESHMENTS AT THE BLENDER STUDIOS. GRAB A COPY OF THE NEW EDITION (PLUS A BACK ISSUE OR TWO) BEFORE WE HIT THE TARMAC ONE LAST TIME.

RETURN FLIGHT MEL>HKG CELEBRATES WILD NEW WRITING, ART AND INTERVIEWS FROM:

ARTISTS: HUGO MATHIAS, RONA GREEN, JESS LAU CHING-WA, LEE KAI CHUNG, OLIVIA MRÒZ, KIM HYUNJI, MICHAEL PECK, ANDY LI, LAI ANDIO, KINCHOI LAM

WRITERS: LAI WAI-LEUNG, ELEANOR JACKSON, JOEL MA, SASKIA DOHERTY, WONG PUI YI HEIDI, LO LAI LAI NATALIE, LAURA JEAN MCKAY, DING CHEUK-LAAM, JACOB BOEHME, WINNIE YAN

VIEW MORE ABOUT THIS PROJECT AND PREVIOUS EDITIONS AT:
RETURN FLIGHT

FACEBOOK EVENT PAGE: HERE
THE BLENDER STUDIOS ARE FINALLY HOME!

WE HAVE RETURNED TO OUR ROOTS IN A GRUNGY FACTORY IN THE HEART OF MELBOURNE'S CBD AND WOULD LIKE TO INVITE YOU TO COME AND CELEBRATE OUR NEW STUDIO LOCATION. LET'S INITIATE THE SPACE IN TRUE BLENDER FASHION, WITH A BIG OLE' ART PARTY.

BLENDER STUDIOS LAUNCH
FRIDAY 10TH MAY FROM 6PM
33-35 DUDLEY STREET, WEST MELBOURNE

GROUP EXHIBITION OF 20+ BLENDER ARTISTS
FULL OPEN STUDIOS TO EXPLORE
LIVE MUSIC AND PERFORMANCE ART
DRINKS COURTESY OF GAGE ROADS BREWING CO & REMEDY DRINKS

THE BLENDER STUDIOS IS ONE OF THE LARGEST AND LONGEST RUNNING ART STUDIOS IN MELBOURNE'S CBD. WITH 20 YEARS OF HISTORY AND AN ALUMNI OF HUNDREDS OF ARTISTS, OUR SPACE IS AT THE HEART OF MELBOURNE'S CREATIVE COMMUNITY! AMID THE NEVER ENDING DEVELOPMENT AND GENTRIFICATION OF OUR CITY, BLENDER CONTINUES TO STRIVE TO RETAIN AFFORDABLE SPACES FOR ARTISTS IN AN INSPIRING AND COLLABORATIVE ENVIRONMENT. OUR NEW SPACE HAS OVER TWENTY INDIVIDUAL STUDIOS, A GALLERY VENUE AND COMMUNAL SPACES (AKA THE DANCEFLOOR) AS WELL AS OUR OWN PRIVATE LANEWAY!

WE WILL ALSO BE LAUNCHING OUR LATEST VENTURE, THE BLENDER INSTITUTE (WWW.THEBLENDERINSTITUTE.COM) ON THE NIGHT, A PUBLIC PROGRAM OF WORKSHOPS RUNNING EVERY WEEKEND AND OPEN TO ALL!

THE BLENDER STUDIOS IS A SIGNIFICANT CULTURAL INSTITUTION FOR MELBOURNE AND WE ARE EXCITED TO CONFIRM WE HAVE A FIVE YEAR LEASE AT THE NEW LOCATION, MEANING WE CAN OFFER SECURITY TO THE ARTISTS WHO CALL BLENDER HOME.

WE LOOK FORWARD TO WELCOMING YOU ALL TO THE OFFICIAL LAUNCH ON THE 10TH OF MAY. WE HAVE AN EXCITING LINE-UP IN STORE INCLUDING LIVE MUSIC AND PERFORMANCE ART AS WELL AS FULL OPEN STUDIOS OF OVER 20 LOCAL ARTISTS FOR YOU TO EXPLORE AT YOUR LEISURE. DON'T MISS THIS UNIQUELY MELBOURNE EVENT!!

COME FOR THE BEERS, STAY FOR THE ART.

VIVA LA BLENDER!

THE GALLERY EXHIBITION WILL BE OPEN TO THE PUBLIC FOR TWO WEEKS AFTER THE LAUNCH NIGHT. GALLERY HOURS 12PM-5PM WEDS-SAT.

LOCATION: WE ARE LOCATED A FIVE MINUTE WALK FROM FLAGSTAFF STATION. NO PARKING AVAILABLE ON SITE.
TRUE COLOURS | TRUE COLORS
MIND-WARPING ART-SCIENCE LIVE ARTWORK BY CASEY JENKINS
OPENING - APRIL 5TH, 6-9PM
APRIL 5- APRIL 18, WEDS-SAT, 12-5PM
DAY OPENING EVENT- APRIL 6TH, 12PM
DARK HORSE EXPERIMENT GALLERY - 33 DUDLEY ST. WEST MELBOURNE
​
A NEW MIND ALTERING, BODY MODIFICATION, TRANSFORMATIVE, DURATIONAL PERFORMANCE ARTWORK BY CASEY JENKINS (SH) IN COLLABORATION WITH NEUROSCIENTIST DR MARC SEAL OF MURDOCH CHILDREN'S RESEARCH INSTITUTE.
HOW FIXED ARE OUR PERCEPTIONS AND OUR PREJUDICES? FOR TWO WEEKS IN A MAKE-SHIFT GALLERY LAB, JENKINS WILL UNDERTAKE INTENSE LIVE PERCEPTUAL TRAINING TO MORPH HER MIND WITH THE GOAL OF PERCEIVING PREVIOUSLY IMPERCEPTIBLE HUES AND DEVELOPING SYNESTHESIA.

TRUE COLOURS | TRUE COLORS IS THE FIRST OF A SERIES OF INVESTIGATIONS INTO THE MALLEABILITY OF THE MIND'S EYE, HOW OUR PERCEPTIONS CORRUPT IN A MEDIA-SATURATED AGE AND WHAT IMPACT THIS HAS ON OUR ATTITUDES AND BELIEFS. BY CREATING NEW, ARBITRARY LANGUAGE CATEGORIES AND ASSOCIATIONS AND DRILLING THEM INTO HER BRAIN, JENKINS AIMS TO WARP HER PERCEPTIONS AND CHANGE THE WAY SHE VIEWS THE WORLD. MONITORED BY MRI SCANS WITH THE SUPPORT OF NEUROSCIENTIST, DR. MARC SEAL OF THE MURDOCH CHILDREN'S RESEARCH CENTRE, TRUE COLOURS | TRUE COLORS DRAWS ON THE RICH OEUVRE OF BODY-MODIFICATION ARTWORK BUT EXPLORES NEW TERRITORY AS THE BODY PART BEING MODIFIED IS THE BRAIN.
​
TRUE COLOURS | TRUE COLORS IS THE FIRST EXHIBITION TO BE HELD IN DARK HORSE EXPERIMENT'S NEW WEST MELBOURNE GALLERY, 33 DUDLEY ST.
FULLY ACCESSIBLE SPACE (ACCESS VIA COBBLESTONE ALLEYWAY)
​
MANY THANKS TO THE GENEROUS SUPPORT OF - DR. MARC SEAL AND THE MURDOCH CHILDREN'S RESEARCH INSTITUTE, DR GREG WADLEY OF MELBOURNE UNIVERSITY, THE CITY OF MELBOURNE, CREATIVE VICTORIA AND THE AUSTRALIAN GOVERNMENT THROUGH THE AUSTRALIA COUNCIL, ITS ARTS FUNDING AND ADVISORY BODY.